Baking for Passover, Round 2.
Elmer found a pecan macaroon recipe he liked that he wanted to try. It was generously shared with Alton Brown when he stopped at a diner on his latest
Road Trip
, and Alton shared it with everyone else. The problem is, too many people at the Passover we were going to are allergic to pecans (and walnuts and almonds), including the hostess. So Elmer altered the recipe to use pistacios and added in a Tablespoon of ground Cardemom.
How do they taste?
I would like it to be noted that this is the first time that Elmer has gotten a proposal of marriage from another man after serving him food. A straight man who is already happily married too. Yes, these cookies are that good. Crunchy on the outside and a little chewy on the inside, and in the middle of the cookie, a little air pocket filled with the exotic perfume of cardemom.
Too bad, Jes, he's mine.
Pistachio Cardamom Macaroons Makes 4 Dozen.
3 lg egg whites
14 oz granulated sugar
12 ½ oz Pistachios
1T Ground Cardemom

Preheat oven to 350.
Place egg whites in the bowl of a stand mixer. Whisk on low speed for 2-3 minutes until foamy. Gradually add the sugar over two minutes. Increase speed to high and mix for another 10 (yes, ten) minutes.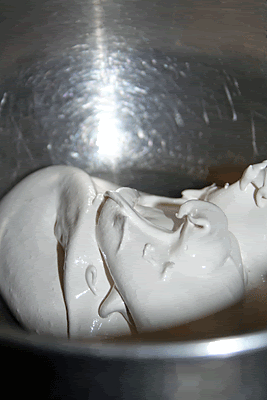 At the end of the 10 minutes it should look like this in the bowl.
It should have this kind of consistancy. Now wash your hands, that's raw egg there, mister.
Fold in the pistachios and the cardemom. Place batter in 1T balls onto parchment lined baking sheet. Bake 14-17 minutes for chewy and 17-20 minutes for crisp. Rotate pan halfway through baking time. Place hot pan on wet towel on heatproof surface. Cool completely before removing from pan.
These really are best warm, straight out of the oven. They do not keep well, so eat them all within the first day or so.