A couple of days ago
28 Cooks
posted a recipe for "vegan raw chocolate brownies".
And my brain went "murp?" Then my brain went: "well heck, lets swap out the dried cherries with dried cranberries and throw in some cinnamon and then, and then…"
Elmer did not share my sense of intrigue. "It needs a better name. You start with the words "vegan" and "raw" and you have already lost 75% of the room. Throwing out other words like "Chocolate" and "Brownie" won't save you.
But fortunately for this blog post, I did not listen to Elmer. I went out and I made those vegan raw chocolate brownies and they were good. They were damn good. Even he said so. He ate four.
So I brought them to an Ides of March party. Once people knew what they were, most folks passed (apart from the Hostess, who was amazed at how good they were). I brought the rest to a rehearsal the next day and just left them on the counter with the other nut deserts (labeled walnuts and dairy free) and they got gobbled up.
Damn Elmer. I hate it when he is right.
But the idea of a bar of pressed gooey fruits masquerading as something else has stayed with me, so last night I got busy again. I had in my mind a brighter taste. No chocolate, but something sunny, something nutty and sweet. Of course, that meant I basically had to use the bones of this recipe as a structure on which to makes something entirely unknown. I mean, why stick with what you know? Let's just start substituting away!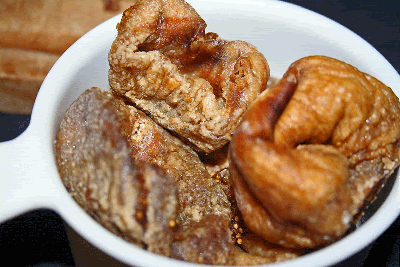 So I played this little game in my head and planned on doing the following.
28 Cooks Original Recipe
1/2 c dried dates
1/2 c dried cherries
1/4 c carob powder (or cocoa powder)
1 c walnuts
3 tbsp agave nectar (or honey)
KathyJ's Bastardization
½ c dried figs
½ c dried cranberries
¼ c almond powder
1 c raw cashews
3 tbsp agave nectar
Well… that's how it started, then it rapidly got more interesting from there.
See, the original recipie did not make very much, so I doubled it and I doubled the bastardization.
I threw the figs, the cranberries and the almond powder in the foodprocessor and pulsed it.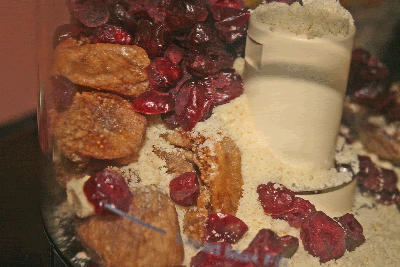 Once that was combined I threw in the cup of cashews and pulsed the machine. I wanted the cashews to be in larger chunks, so they did not turn into the same dust as the almond flour.
I tasted it.
Elmer tasted it.
It was missing something.
"Add the Agave nectar," Elmer suggested.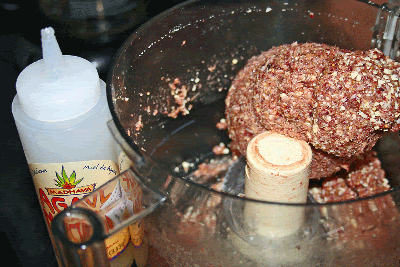 This is when we note clearly and for the record that my darling husband is not always right. We should have added the cardamom and any other ingredients at this point.
We failed.
Don't fail.
Add anything loose now. Once you add the agave nectar, the whole thing seizes into a big sticky ball and it is very hard to incorporate any new ingredients.
"Whoops. Sorry. How's the taste?" he asked.
"Still missing something," I replied.
We ended up adding a ½ cup of coconut flakes and the cardamom to fix it. This did not go over well. The coconut dulled the bright taste and the cardamom did not quite get into the nooks and crannies of the fig mush.
Frustrated, I threw the fig mush into the pan I had put out, and found that unlike the doubled brownie recipie, it didn't make enough to cover the whole bottom. That was a surprise until I realized that I had not doubled the amount of cashews in the recipe. *sigh* Too late now. Fortunately, the mass is sticky and rigid enough that I just squished it over to the side and it stayed that way.
Sadly, it looked remarkably like ground meat.
Happily, my intrepid shopping at little Armenian Market Around the Corner from my Work saved the day. I had a bag of pre-ground pistachio meats and I pressed a layer of crumbly, beautiful green pistachios into the top. That made it look cheerful and spring like. I then threw the pan into the freezer to let it sit and solidify all night.
By the morning the taste had regained it's brightness and the pistachios had a lovely crumbly, buttery feel in the mouth. There was only a hit of cardamom, so I might up that if I was making this again, but it was a wonderful, complexly flavored, pressed fig bar. Pretty enough to serve to your dairy free, vegan, raw food eating, no nut allergies neighbors, should you have any. Just, don't tell everyone else what it is.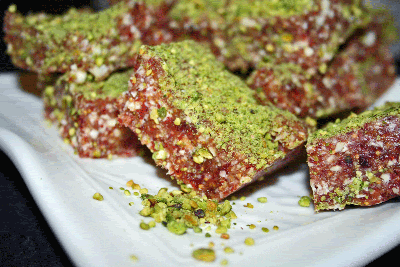 Frozen Cranberry Fig Bars
1 Cup Dried Figs
1 Cup Dried Cranberries
½ cup almond powder.
½ cup flaked coconut.
1 Cup raw cashews (can be roasted & salted, that would be a nice flavor too)
1 tsp of cardamom. (you might consider doubling this)
4 Tbls of agave nectar (or honey)
Dusting of ground Pistachios (4 oz?)
Grind pistachio meats in your food processor until crumbly. Reserve pistachio meats and wipe down inside of food processor bowl.
Reassemble food processor.
De-stem the figs by chopping the woody part off with a sharp knife.
Put figs, cranberries, almond powder, coconut, cardamom in a food processor. Pulse until combined and loosely mushy. Add the cashews. Pulse only until the pieces of cashews are the size you want them. Add the agave nectar. Make sure it is the last thing you add. Pulse until all the ingredients have made a big, sticky ball.
Take ball out of food processor and press flat into a small square pan. Press ground pistachios into top. Put pan into freezer. Freeze for 2 - 8 hours to stabilize.
Cut into 1.5 inch squares. Consume.